That's some crazy shit right there!!!
Thank you Gothenburg for attending at Sticky Fingers this Friday! You guys f*cking rock!! Seriously, just watch this video haha, LOVE IT SO MUCH!!
/Black Magic Fools


What a weekend in Stockholm! We visited once again "Sjätte Tunnan" to perform acoustic during Friday and Saturday night! We love it so much! We compiled a short summary video of it which you can watch above!

/Black Magic Fools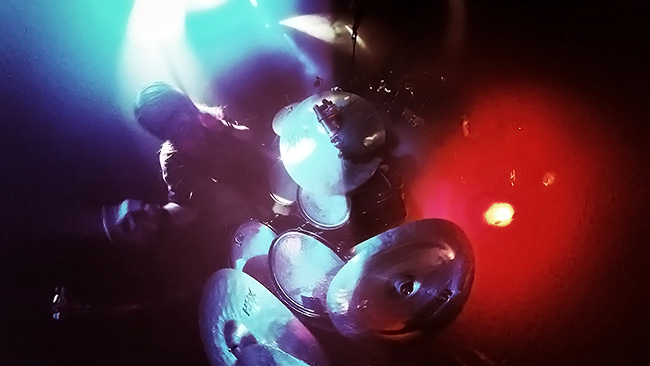 We've realized that we never said anything after this competition on our website, only on Facebook and Youtube... and we can summarize it with these words:

"We went there, did our thing, the audince loved it, we found some new fans, we had a lot of fun, we traveled far, we paid for rental car, we paid for the hotel, we paid for the gas etc...but unfortunately we didn't go through to the finals. The stage was amazing, the sound was fantastic and the lights where awesome! Even though if we didn't win we had a lot of fun and created some good memories along the way!"

We did what we could, and thank you all for supporting us!! There are definitely things that could be better with the total Wacken Metal Battle event... but we don't have to care now that we're out :)

*UPDATE*
We'd like to congratulate CHUGGER for winning the finals in the competition! At least a proper good band won the competition and we hope them the best of luck and fun going to Wacken 2018. Cheers guys!

/Black Magic Fools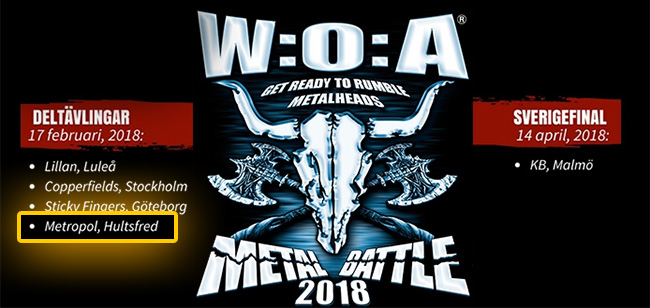 YES!!! We are through in the massive WACKEN METAL BATTLE SWEDEN 2018!!! We're in the semi final at the moment and we will compete performing in front of a live audience and jury at February 17 at Metropol in Hulsfred! We hope you can make it there to support us and hopefully we can go all the way to the finals!

Wish us luck! :)
/Black Magic Fools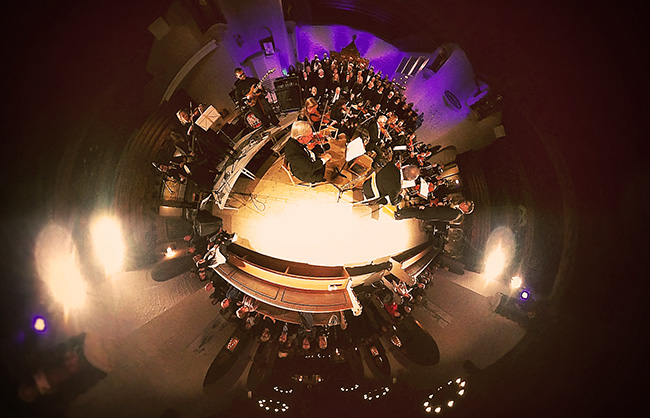 Black Magic Fools joined together with the Corus Night Orchestra and performed some classic tunes and one of our own songs in the Masthuggskyrkan (Large Church in Gothenburg). It was massive playing some heavy metal in a big church!
We managed to film a lot of the concert and we hope to create a video of one of our own songs we played together with the orchestra! *fingers crossed*

See you in a bit!
/Black Magic Fools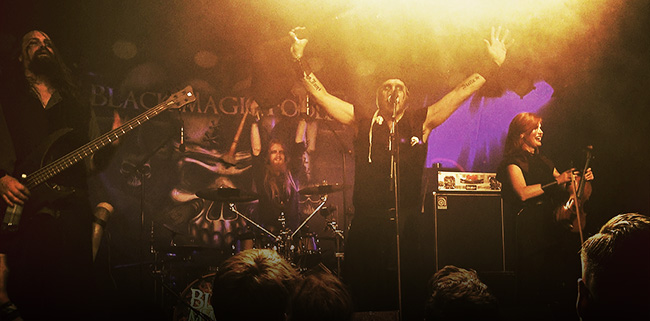 Thank you all for coming to this fantastic event together with Skitarg, Frantic Amber and A Dead Tree Doesn't Talk!
With best regards from your favourite fools!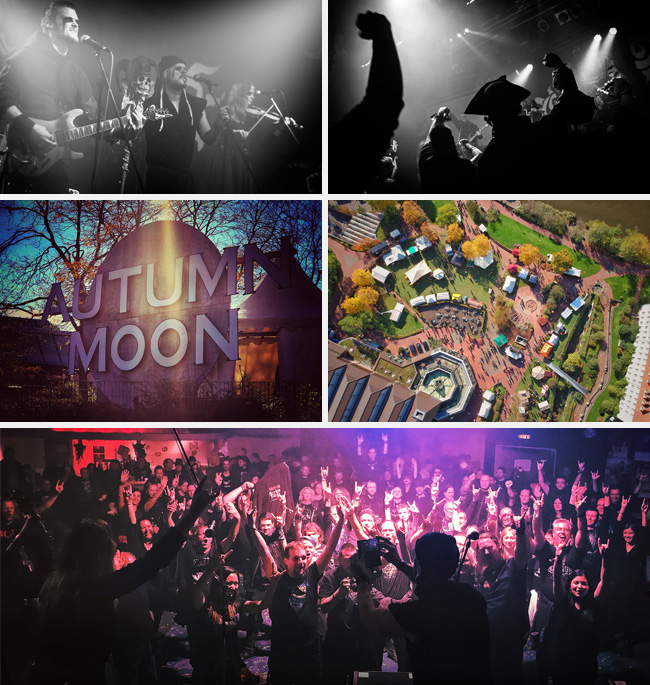 We went to a fantastic city called Hameln in Germany at the perfect time having the most perfect weather you could have in Europe in October. The festival was super awesome as well! Good crowd and a good show! Hope we can come back another year in the future :)

All the best for now! /Black Magic Fools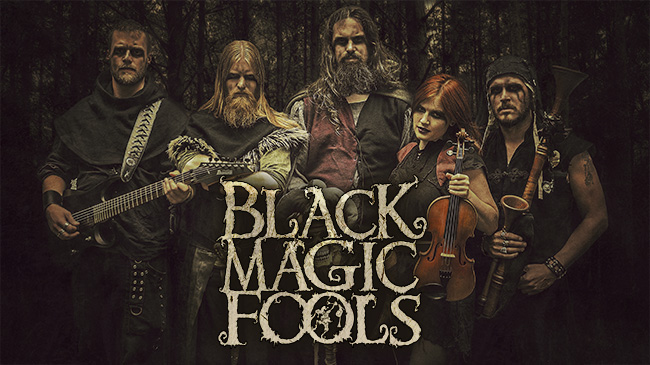 It's been a while since we've had a new band picture, and since there's been some changes in the band setup we can now present to you a NEW BAND PICTURE! Will be available soon for download directly from our website in a near future. If you need it already now, feel free to contact us directly and we'll send you a downloadable link!
Hope you like it! :)
/Black Magic Fools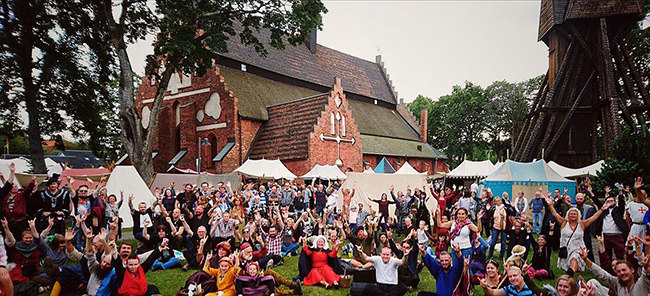 What a fantastic weekend we've had in our beloved Söderköping. The picture says it all, you guys make this festival such an amazing event as always :)
We hope to come back next year as well, keep an eye out and we might turn up even earlier :)

/Black Magic Fools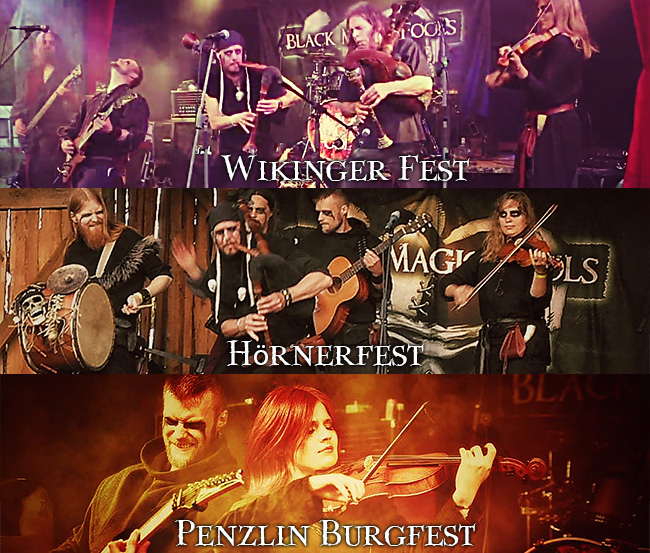 It's bin a wonderful year so far, and we've just like to give a shout-out to everyone we've met in Germany during the year so far! We seriously love Germany and we'll be coming back during October for the fantastic festival Autumn Moon Festival in Hameln south of Hamburg!
We really hope to meet some of you guys again, and hopefully some new fans there! More info about this will come soon! Stay tuned! And once again, WE LOVE YOU DEUTSCHLAND! :D

/Black Magic Fools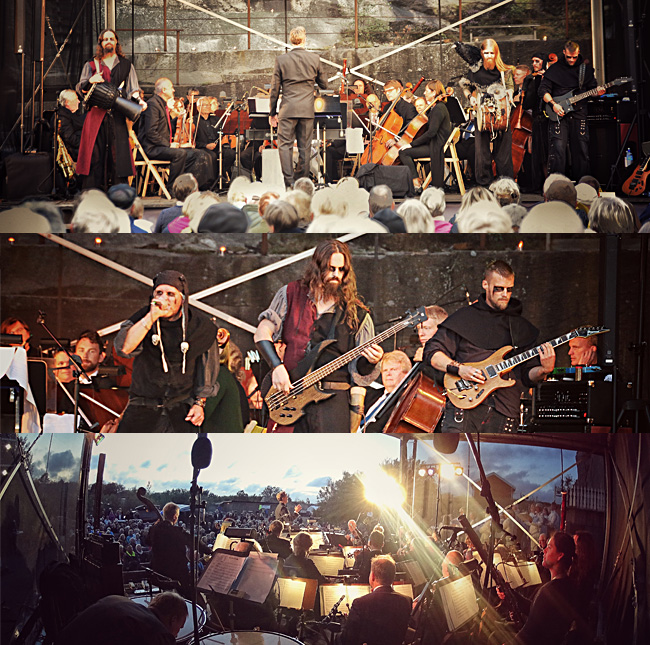 We once again got to stay on a stage together with the Chorus Night Orchestra! This time we got to play one of our own songs "Black Jig" from our album "Soul Collector". It was super cool with a large string orchestra playing the violin parts in that song, giving us all goose bumps :)
We hope to publish a short move of this event in a near future... maybe a throw-back-thursday or so :)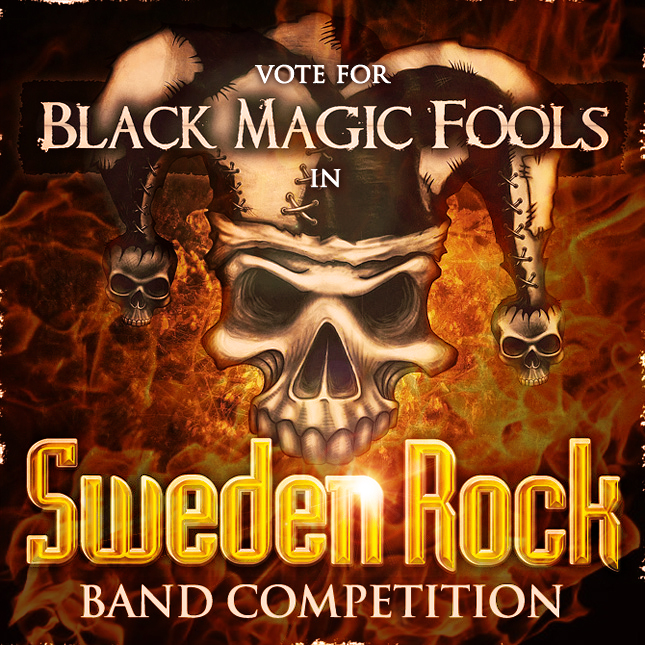 We need
YOUR
help! We've been chosen among 900 bands to participate in this years Band Competition for a chance to play at Sweden Rock Festival 2017! The rules are: "You can vote 2 times a day per IP address", so use all your phones, computers and rune stones etc and go to this link and grant us a vote or two!
Use this link below!
http://swedenrock.com/festival/artister/bandtavling-2017
Forever grateful!
/Black Magic Fools
Our album "Soul Collector" is nominated as one of the five best debut folk metal albums of 2016! This is awesome, and we're stoked and thankful for this nomination!

You can read all about it on their website, here's the link: http://www.folkmetalmagazine.com/debut-album-2016-nominees/

Keep on rocking!



And here's Part 2 in our Track-by-Track video series. This episode we go through the songs "Salvation", "Black Jig" and "Last Supper". Enjoy! :)

Here's a link to the video: https://www.youtube.com/watch?v=J0wwdD5Yj_0

Here you go! We created a "Track-by-track" Video of our first three songs from our album "Soul Collector". We dive into what the lyrics are about and how we made the songs and more. It contains a bit more personal view of the band and a lot of humor :)

Here's a link to the video: https://www.youtube.com/watch?v=0En1Q4w3lNs

Stay tuned for "Part 2" for additional three songs :)

Today we release a Lyric Video for our song "Last Supper"! It's a mix of live performance and a small story behind the concept of our album "Soul Collector" in the background. If you are having issues hearing what Pontus is singing, now we've got that covered at least :)
Here's the link to it! Enjoy :)

https://www.youtube.com/watch?v=Xcf4yPZXutI

/Black Magic Fools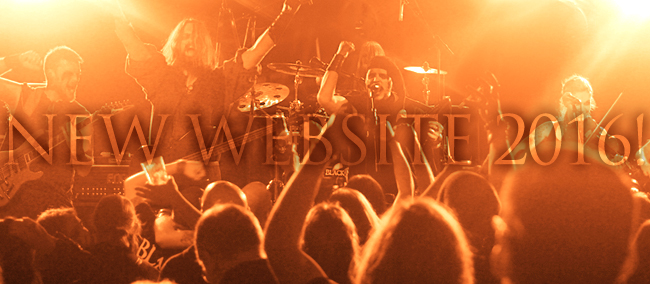 Welcome to our new Website!
We hope you'll enjoy it and visit often to check out our Tour Dates and others stuff :)

It will be updated more during the year to improve it even further. Keep on rocking!
/Black Magic Fools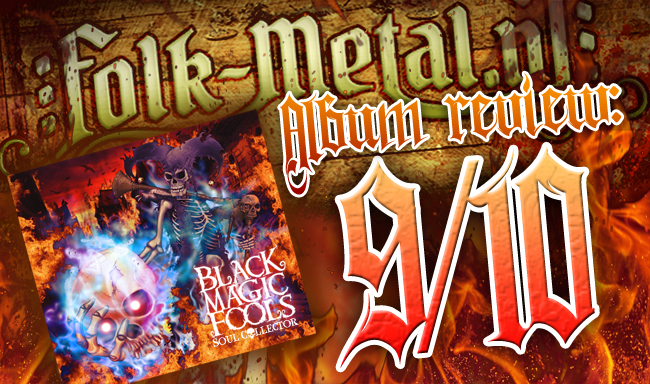 "Take my soul..." / Folk-metal.nl

We just got our first review from www.folk-metal.nl who completely understood our concept of the album and gave it 9/10! Thank you so much! Follow the link to get read the full review on their website: http://www.folk-metal.nl/2016/02/black-magic-fools-soul/

More reviews to come!
/Black Magic Fools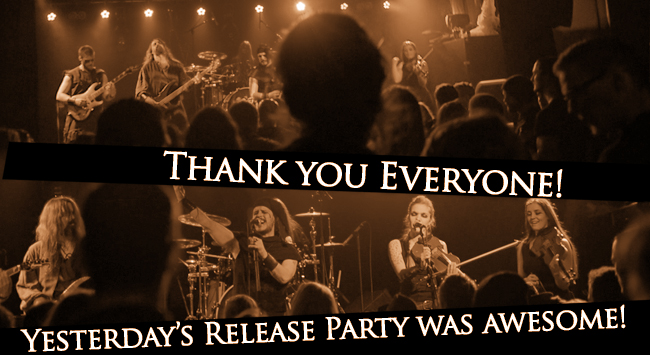 Wow! Such a great Release Party and we have you all to thank for. Without you we wouldn't have left the stage with the biggest smile on our faces :D

We can't thank you enough! We'll see you hopefully soon enough again. We filmed some of the show so we'll be working on getting something uploaded to youtube soon promoting the new album. Awesome! Thank you again!

/Black Magic Fools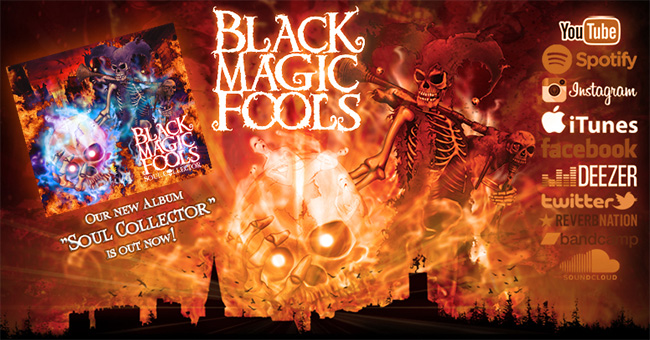 Today we make Black Magic Fools history, our new album "Soul Collector" is finally released! You can now order physical CD's and Vinyl Records through or Web Store or stream it from any digital streaming medias available like Spotify, iTunes, Apple Music, Deezer, Google Play, Tidal and many more! Awesome looking T-shirts are also available in sizes S, M, L, XL, XXL!

Have a listen hope you like it, tomorrow we have our release party in Göteborg at Belsepub! See you there fools!

/Black Magic Fools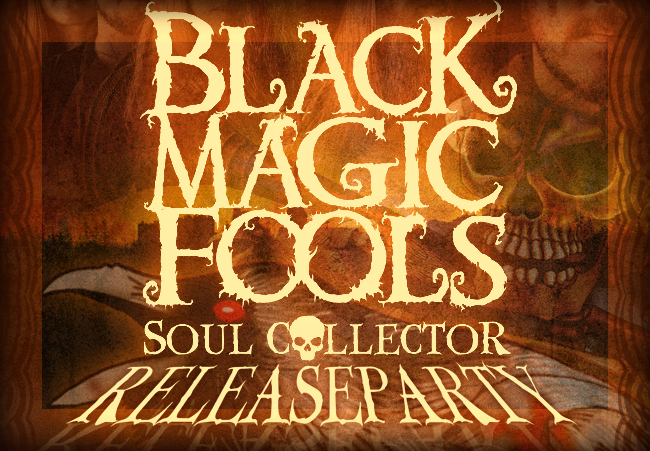 We couldn't release tis new album without a release party! The day after the album is out, we will arrange a release party at Belsepub/Valand here in our hometown "Göteborg" February 20! This you don't want to miss. We'll play the album from start to finish and hopefully have time for some "oldies" ;)
We'll be selling our new merch there in person and a perfect opportunity to get it signed at the same time!

Link to the official Facebook event will all information needed!
https://www.facebook.com/events/1204741472873882/

We really hope to see you there!!

/the Fools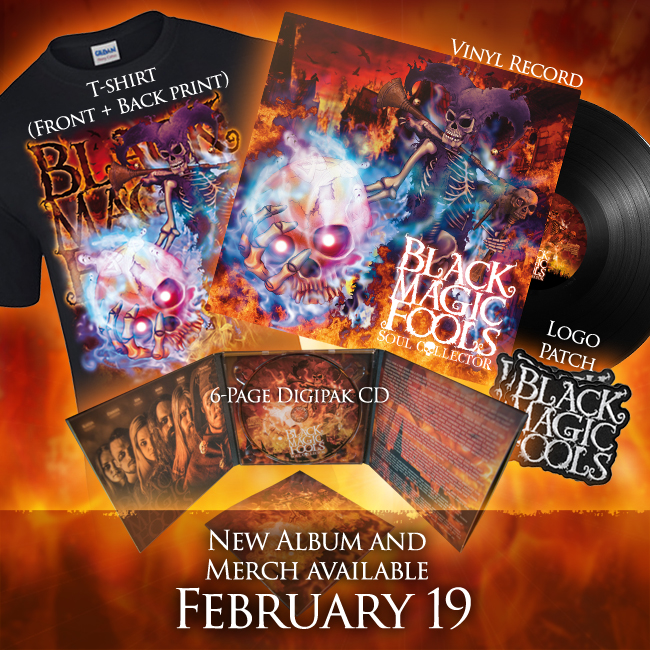 We're closing in on the release date of our new album "Soul Collector" February 19!
New merch will be available at our Web Store the same day! It will be filled with the 6-Page Digipak CD, Vinyl Record, T-Shirt and a new Logo Patch!

Link to our Web Store: http://blackmagicfools.bigcartel.com/

/BMF crew


It's finally finished! Our new Music Video for our new song "GRAVE DANCER" is now released on YouTube! It has taken a long time to record and edit it and we'd like to thank everyone being involved in making it!

It's the second track of our upcoming full length album "SOUL COLLECTOR" to be released in the end of February. Stay tuned for more news of the upcoming album. Now it's time to spread the video around the world! We hope you enjoy it!

/Black Magic Fools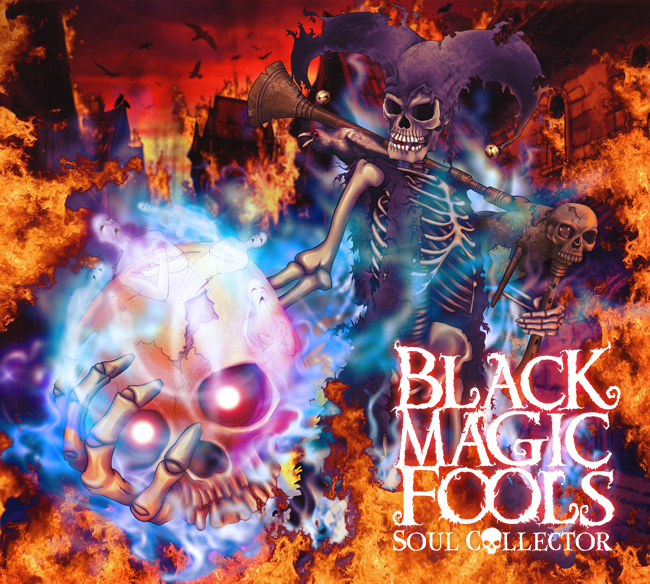 It's finally time to reveal our album cover for our new upcoming full length album and goes by the name of "Soul Collector"! The whole album tells a story about a musician that gets his beloved instrument destroyed and what he would have to do to get it back in one piece... the artwork is made by our drummer Björn Wallin. The album will be released as physical 6-Page Digipak CD and Vinyl Record!

The release date is set to February 19! We're really stoked to get this released, we've put so much effort into making this and we hope you'll like the amazing production sound we've made together with SpinRoad Studios and Table of Tone Mastering! You won't find a more evil sounding album this year. Stay tuned and set your clocks and 00:01 the album will be available to order form our Web Store! Can't wait for you to hear it! :)

/Black Magic Fools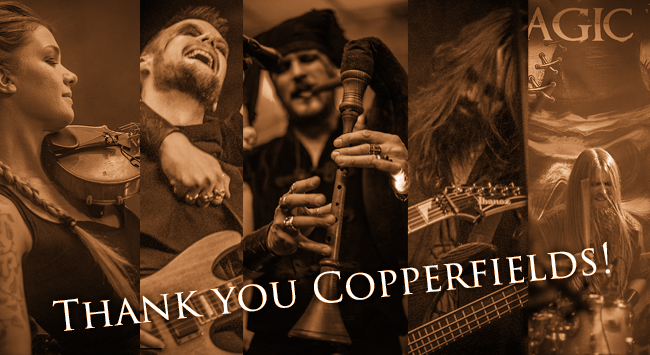 Wow Copperfields! That was awesome! You delivered a massive support and we are forever grateful for that, thank you so much! We hope to come back soon! :)

/Black Magic Fools


We've had an awesome time visiting many different events this summer while at the same time trying to finish the new album! God weather, good crowd and a few beers have been mixed together to form some epic summer memories :)
/Black Magic Fools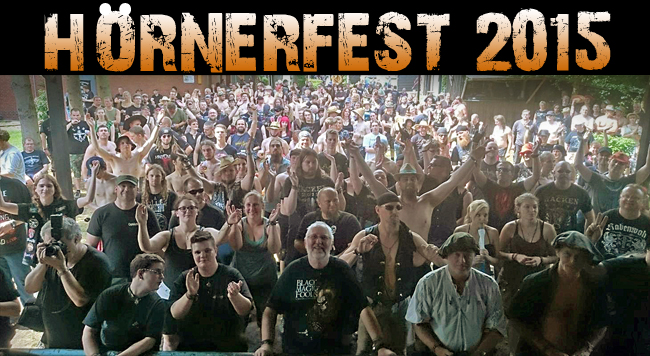 Oh my god Hörnerfest! Thank you so much for everything this year! it was amazing meeting old and new friends! We hope to meet you all soon!
/Black Magic Fools :)



We've been in the studio recording our new songs for our upcoming album! Here are some glimpses of these magical moments we've had!

Feel free to share it with all your friends! :)

/Black Magic Fools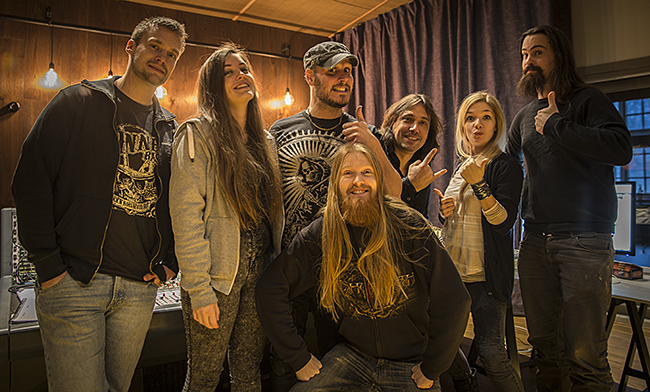 We thought we would finally go ahead and share some things we've kept to ourselves for a while now.

We're right now working on a full length album and we're recording it in a new studio called Spinroad Studios in Lindome (Sweden).It's a brand new studio equipped with all the latest awesomeness we'll ever need :)
The man behind this new Studio is no other than Producer Pedro Ferreira , Brit Award winning producer of multiplatinum selling artists and albums worldwide. Over 20 years of professional mixing and engineering of works from all musical genres. Most famous known for his work with The Darkness , Therapy? , Meat Loaf and many more!

Right now we have finished recording the Drums and Bass, and soon to finish the Guitar also! Then it's just the rest left like Violins, Bagpipe and Vocals and maybe some more :)

Keep an eye out on our Facebook and Instagram to keep up with the latest status, pictures and info on the progress!
/Black Magic Fools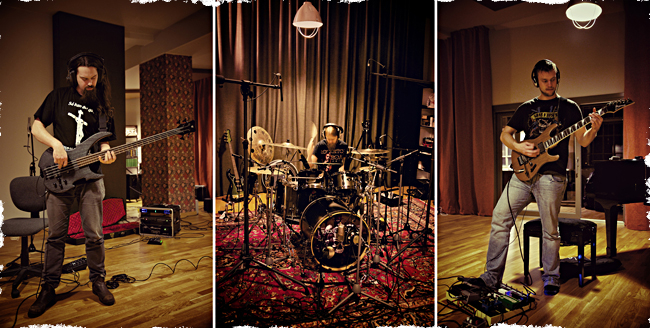 We've been teasing for a while now and the time has finally come for us to announce that Black Magic Fools are entering the studio to record a new album! During December we'll record Drums and Bass, and we'll kick off 2015 by recording the rest of our instruments!
The studio is a brand new one and we'll be the first band that will record an entire album there together with our Producer... the name of the Studio and our Producer will be announced soon enough ;)

More details will come in the upcoming weeks. Be sure not to miss anything, follow us on Facebook and Instagram !

/Black Magic Fools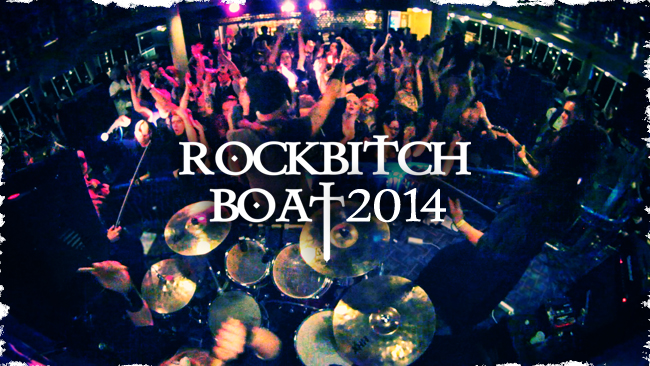 We're home from an AMAZING trip on this years Rockbitch Boat Cruise! Thank you everyone for attending during our show on Sunday night! The above picture kind of tells the amazing response you guys provided! AWESOMENESS!

We previewed some new songs as well, and all the jumping around and headbanging tells us you probably enjoyed them ;)

We love Rockbitch Boat, and would also like to thank all the people behind it for making it happen every year! We know it's definitly serious hard work, and the results are a FREAKING AMAZING CRUISE!

THANK YOU ALL!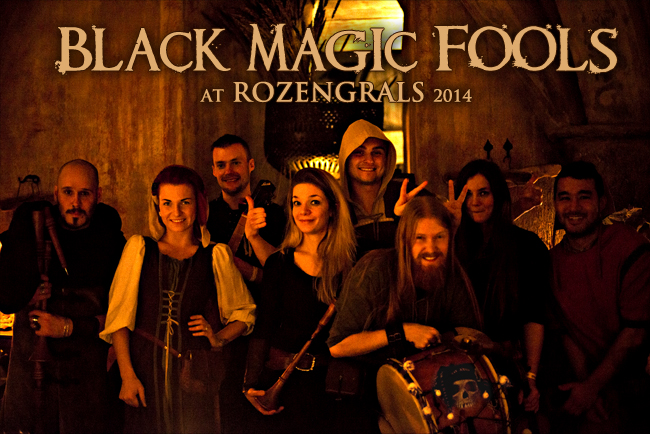 During the Rockbitch Boat cruise, we make a stop for a couple of hours in Riga and make our usual visit to Rozengrals. Such a lovely place and the staff working there are so friendly! We blew of some acoustic tunes in the restaurant for all the customers and later sat down for some beers and lovely food!
Thank you once again Rozengrals ! We hope to come back next year again :D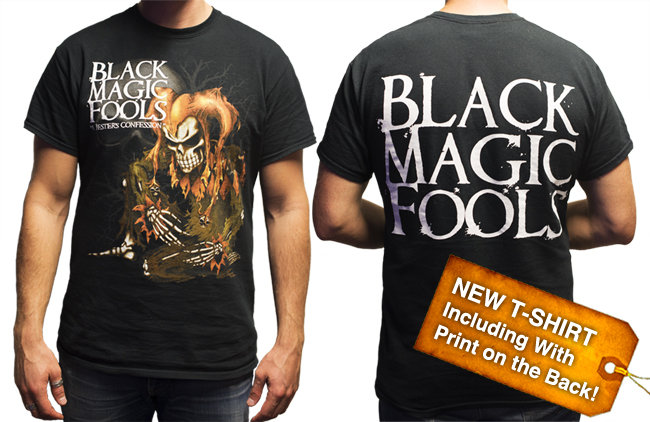 We know many have been waiting for our storage of T-Shirts to be re-filled and finally they are! And this time we improved the colors in the main print on the front, and also added a print on the back FOR FREE! So no extra charge for the extra backprint!

- "So were can I buy this new awesome t-shirt?"
- "At our webshop of course! and you can find the link to it here !"

...and since some feedback from the last order of t-shirts, we were told that we should have larger sizes... so we got a couple extra in XXL for ya! That was the most manly size we could find :)

/the Fools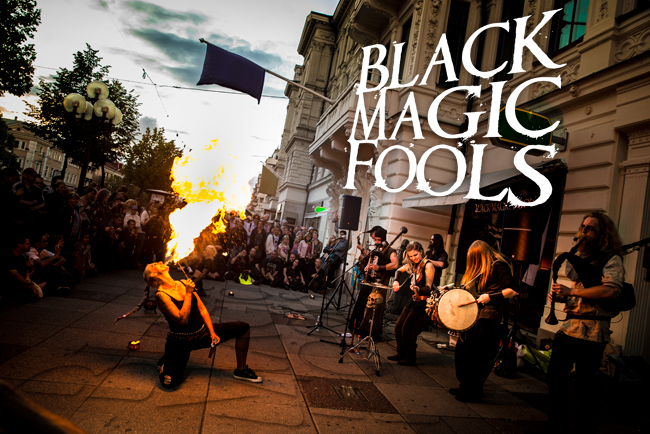 Thank you Göteborg for this years Culture Festival! It was definitly fun to play acoustic medieval songs, even though we would have prefered our metal performance instead... maybe next year? :)
Anyhow, thank you everyone for attending! Now we will start to focus on other important subjects that are happening in the background that we haven't told yet.. we're planning some big things but requires a lot of preparations! So stay tuned! Hopefully we'll be able to go public with these news soon :)

/Black Magic Fools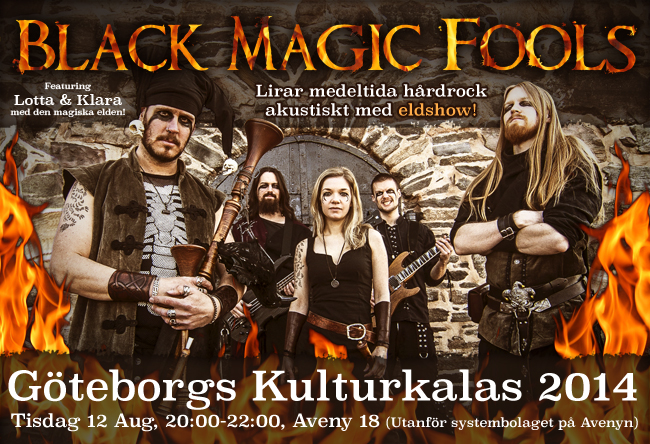 Sorry for the Swedish in the picture above, the same info will come below in English so no worries :)

It's time for this years "Gothenburg Culture Festival 2014" (Göteborgs Kulturfestival 2014) and Black Magic Fools will also be performing acoustic medieval metal songs together with a fire show. The past years we've been performing with full metal setup but this year due to some safety regulations (?) we've been forced to play acoustic.... BUT FEAR NOT PEOPLE! We will make an awesome show for you FOR FREE still with bagpipes, violin, drums and more together with some amazing fire skills perfomed by Lotta & Klara.

Date: August 12

Time: 20:00-22:00

Place: Gothenburg/Göteborg, Aveny 18 (Just outside "Systembolaget" along Avenyn).

Link to Google Maps

Here's a link to our Official Facebook Event:
https://www.facebook.com/events/692078670878141/

Here's a link to the info on the Festival homepage:
http://kulturkalaset.goteborg.com/2014/programpunkt.php?id=2822

Be sure NOT to miss this unique opportunity folks! Spread the word and the event and we'll see you there!
/Black Magic Fools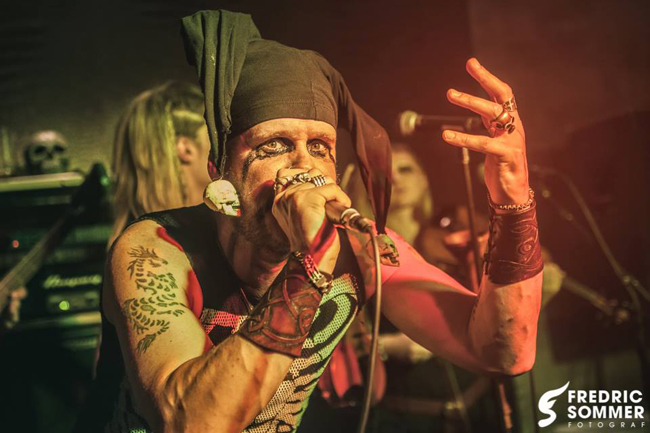 Wooow Linköping! Thank you so much! We had no expectations on this night since we competed with "Stockholm Fields " and "Muskelrock" the same weekend and you rocked our medieval socks off! We hope the three extra numbers we played was satisfying ;)
Truly awesome Linköping!

Here are some pictures from the event on Facebook, photos taken by Fredric Sommer:
Black Magic Fools at The Crypt Linköping

/Crew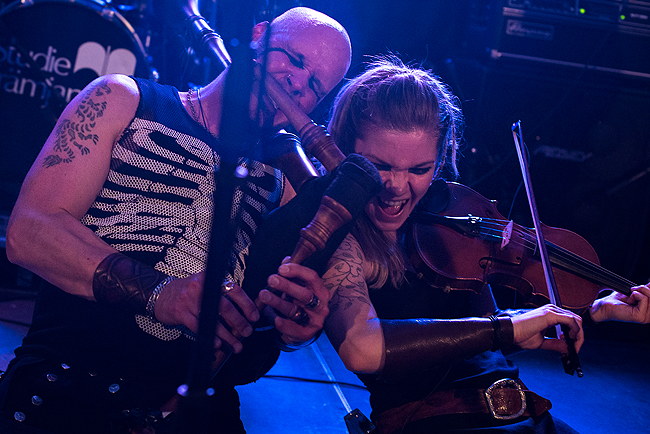 Thank you Metal på Bruket for making this mini metal festival! It was great :D
If you'd like to see some pictures from the event, just go into Facebook on this following address:

Black Magic Fools at Metal på Bruket

Next up, The Crypt in Linköping!

/Crew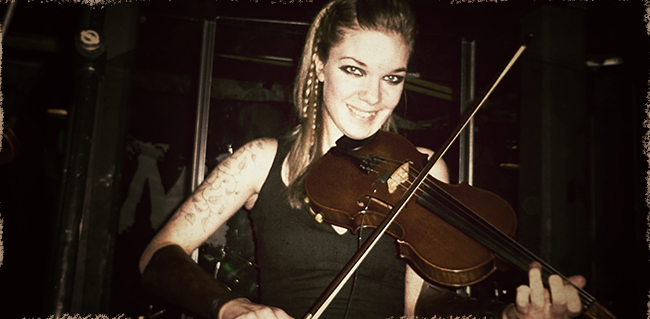 Thank you all for coming to Belsepub last weekend! Here are some pictures and some text from the event covered by Swedenmetal.

Follow this link for the pictures! CLICK HERE!

/crew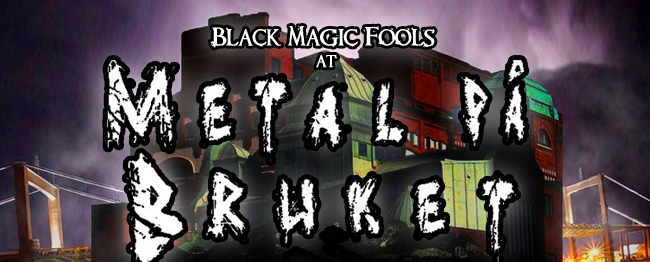 Gothenburg has a new mini metal festival in town called "Metal på Bruket". It's a two day mini festival with bands as Crusified Barbara, The Resistance and BLACK MAGIC FOOLS! We'll be performing on May 24.

See the complete informaton and band orders at the following link: http://sockerbruketarena.se/kommande-evenemang.html

Be sure not to miss this!



Saturday May 10 will be the first time in a long time since we've played back in Göteborg/Gothenburg! This time at the "Dark Ages Night" at Belsepub together with FIMBULTYR and MYRKVEDR. Follow this link to get all necessery information about the event at Facebook!

Link: https://www.facebook.com/events/234236673427996/?fref=ts

See you guys there!
/Crew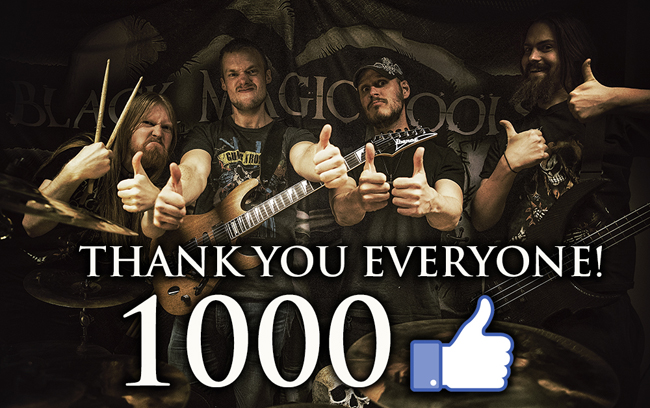 Some people they buy their likes on Facebook to increase it to a big amount "Likes", and some people try to earn them honestly! THANK YOU ALL that has but a thumbs up on our Facebook Page www.facebook.com/blackmagicfools and stayed with us! :D

We'd just like to say that we're a totally different band today than we were in the beginning! We're right now writing a lot of new tunes and they sound different from the "oldies". Stay tuned for more information on these! We have previewed some of them live recently, and we're aiming to record them in a near future ;)

Thumbs up to you all!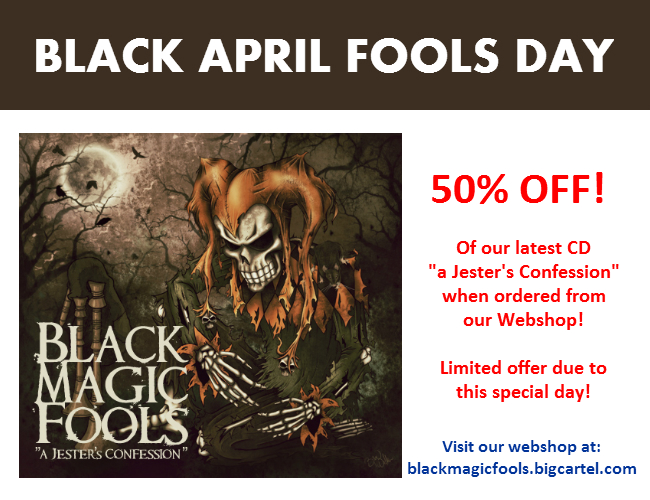 Today it's "BLACK APRIL FOOLS DAY", also known as April 1st. So today we make a discount of our latest EP "a Jester's Confession". Take the limited opportunity to get yourself a copy of it. Here's a link to our webshop: http://blackmagicfools.bigcartel.com/
We've updated our tour dates, check which date and city is the best suitable for you to come and see us play!

Here's a link to the tour page!

/Black Magic Fools on tour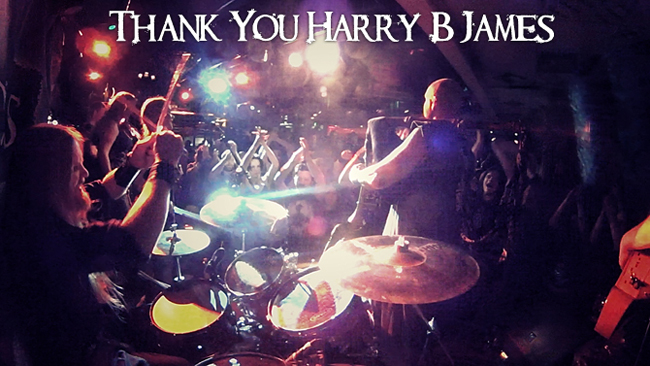 We'd like to sincerely thank every crazy fool coming to Harry B James last Saturday! Unforgettable! Congratulations Bodil who won a CD for the most outragous dancing performace during the show! There will soon come some pictures from the event. Hopefully also some video footage ;)
You will be missed! We will come back! So until next time, YOU ARE AWESOME! And thank you again! :D

/Black Magic Fools




We'll once again come back to Stockholm and play at Harry B James on Feb 1! This time we have two new songs to play for you. Bring your friends and have an awesome night together with us!

Here is a link to Dirty Nights Rock Club which holds the event:
http://dirtynights.net/

And here's a link to the event itself on Facebook:
https://www.facebook.com/events/558296087582120/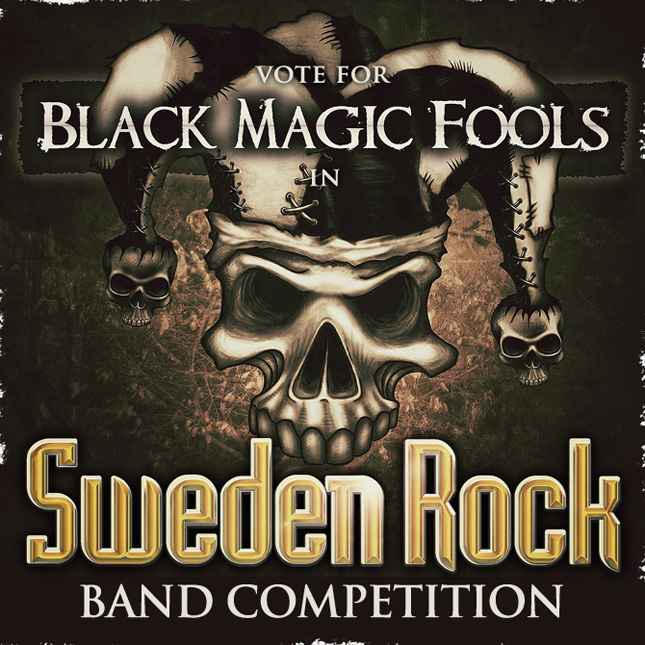 Black Magic Fools are in the first voting round in Sweden Rock Festival Band Competition where all bands compete to get stage time at the festival 2014! The rules are simple, "the bands that get the most votes until January 10 go through to a final voting round". Two years ago we ended up at 13th place of 1500 bands that applied!

You can vote 2 times a day per IP-address, which means 2 times on your home computer, 2 times on your smartphone, 2 times on work computer and so on. We're trying to reach out to as much people as possible to to help us improve our chance of getting a spot at the final three bands that will win stage time at Sweden Rock next summer!

Go to the link below and tick the box next to our name and scroll down to the bottom of the page and click "SKICKA". Repeat this once again and you have supported us with two votes! This can be done EVERY DAY until January 10th! We need all the votes we can get and we really hope to see you on the festival next summer!

LINK: http://www.swedenrock.com/index.cfm?pg=82

Thank you for all your support!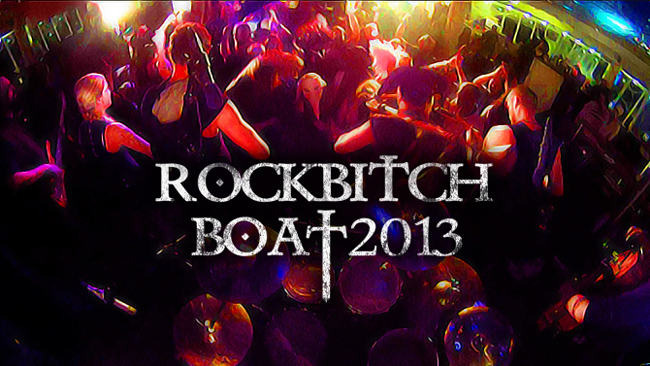 Rockbitch Boat 2013 is over! And we had an awesome time playing there!
We played some spontaneous acoustic songs on the boat and the people was CRAZY! Jumping up and down until the guards came and stopped us saying "Ey! Stop jumping around, the roof beneath you is about to brake!" ...it's a boat filled with Metal Heads, what do you think is going to happen? :)

Then we arrived at Riga the next morning and we performed at the Medieval Restaurant Rozengrals ! That place is so cool! Hopefully there'll come some pictures from us playing there soon!

Later that night we performed on the boat in front of a crazy crowd! Thank you so much for the support! We had an awesome time playing in front of Zombies, Batman and Pippi Longstocking jumping and headbanging around! "S I C K" is the word we're looking for :)

Here are some really cool pictures provided by www.festivalphoto.se: PICTURES OVER HERE !

Thank you again! We'll see you soon again!!



We finally present to you the new Music Video for our song "a Jester's Confession". We hope you'll enjoy!

Feel free to share it with all your friends! :)

/Black Magic Fools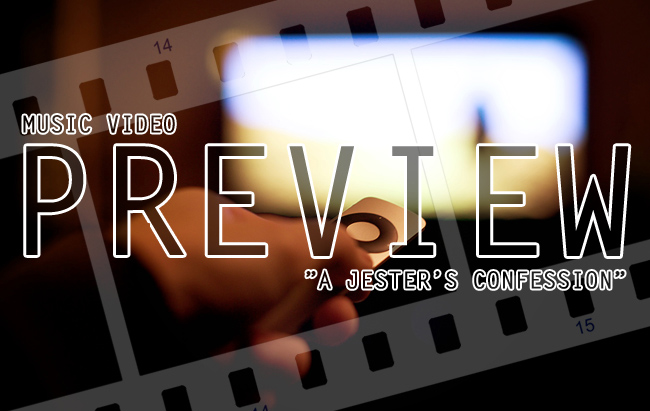 OH YES!!!! It's about time! Right now we're previewing the upcoming Music Video for our song "a Jester's Confession". It's down to just some minor adjustments and we're done! This feels freaking amazing! The countdown of the PREMIERE has begun!

Stay tuned for the release in not to many hours from now, maybe even this weekend...? ;)

CHEERS FOLKS!!!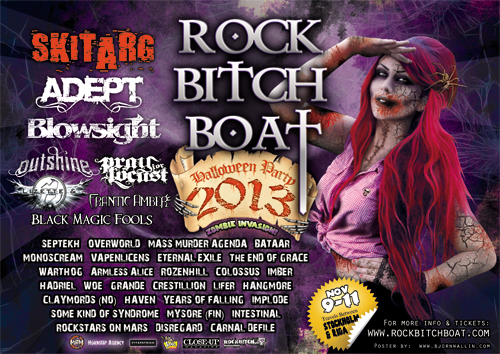 It's soon only a month left until the biggest Halloween Party sets sail to Riga. It's time for this years event of Rockbitch Boat 2013!
This year is even bigger than last year with bugger, better and more stages! Black Magic Fools will also be playing on the last night!
The dates are set to 9-11 of November and will as always travel between Stockholm and Riga. A ship full of Zombies, Vampires, Starwars Characters and MANY MORE!

For more info and tickets visit www.rockbitchboat.com , and hurry up and book those tickets for the wickest Halloween Party EVER!

See you there!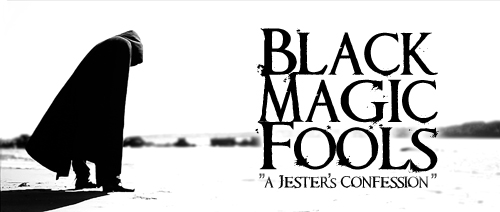 We're almost done with our upcoming Music Video for "a Jester's Confession". We've been working REALLY hard on it and it's really exciting to finally beeing able to view it to the world!
We put out a teaser for the video before on Youtube , if you missed it you can watch it here!

There'll be some more new soon about the Video, stay tuned folks!

/crew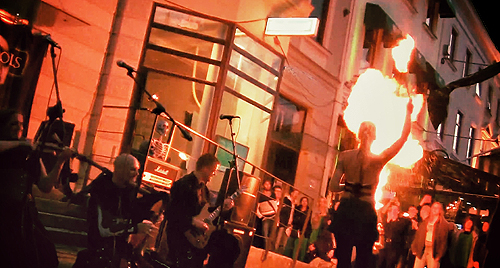 Wooohaaa!
Black Magic Fools have been playing two nights at the Culture Festival of Gothenburg (Göteborgs Kulturkalas ) this year! And it has been really awesome! A lot of happy people gathered around us and our lovely fire show that we brought with us. Thank you so much Klara Rocking and Lotta Odelberg for bringing literally the HEAT to Gothenburg streets with your amazing Fire Show! If you want to contact them you have a link to Klara's facebook page here !

We hope we met a lot of new friends, if you want to stay tuned with the latest updates and gossip, please also visit our FACEBOOK page at www.facebook.com/blackmagicfools.

We love to play at this culture festival because we get direct connection to the audience when we play out in the streets where EVERYONE can join in and have fun :)

Thank you all for making this in to a treat! Bye for now!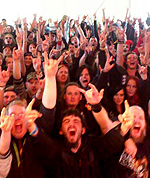 We're back from the awesome metal festival in Gothenburg Metaltown were we got to play at this year. We can't describe the wonderful support we received during our show, the audience was CRAZY and we LOVED every second of it! We will continue to post updates from the festival when footage and material is received. To start with, here are some really great pictures taken by Camilla Gradin for CrankItUp.se.

Link to the great pictures of Black Magic Fools at Metaltown 2013:
http://crankitup.se/foton/?album=1&gallery=150

Thank you again everyone that came to our show! YOU made it totally EPIC!! :D

/crew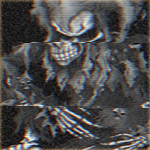 Aaaahh!! Not many hours before we enter the Camping Stage at Metaltown festival we announce a teaser for our upcoming video for the song "a Jester's Confession". SEE YOU ON METALTOWN!!

http://www.youtube.com/watch?v=4VYtHcZhCaU&feature=youtu.be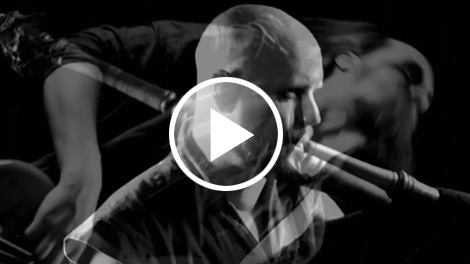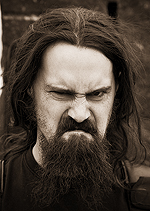 As you all know, we've been missing a bass player for a while but still kept our creative minds active! Fortunately, the search is finally over!

We had to look in the darkest and deepest cave to find him... we're proud to present Mats Halldin as our new bass player!
He will be present at the show at Metaltown as first gig! Be sure to be there to not miss this awesome show!

Stay metal!
/crew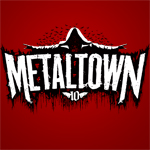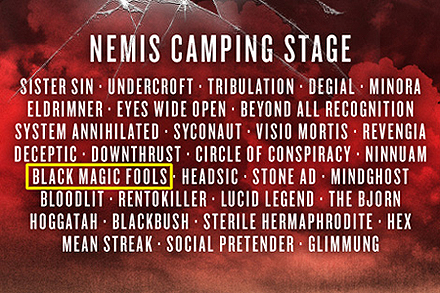 It's FINALLY OFFICIAL that we'll be playing at Sweden's most fierce Metal festival METALTOWN! They're celibrating 10-year anniversity and luckily we'll be able to share that! The stage we'll be playing at is at the "Nemis Stage" in the camping area on july 4th at 18:15.

It's going to be awesome to bring some MEDIEVAL MADNESS to the festival, it's about time they invited some bagpipes, hurdy-gurdy's and shit! We'll hope to see you there!

/crew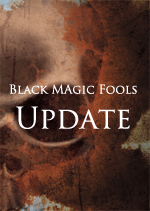 So what's happening right now??!?

It's a lot going on at the moment, some bad things and some REALLY positive ones.
Let's start with the bad things first.
Since our last bass player Ida produced a baby it got harder for her to continue to play. So we converted her to her original instrument that actually is a Violin :)

So we needed to find a replacement bass player and turned to Johannes who followed us to Hörnerfest last year and kicked some ass together with us!
Unfortunately he had to many other music projects ongoing and couldn't find a gap to go 100% on Black Magic Fools at the moment.. shame.. Johannes is an awesome bass player and an even MORE awesome dude!
So we're actually still in a search for a bass player! If you know anyone near by, give us a call :)

Meanwhile, the better news :)

1. We're definitely NOT dead during this time, we're actually rehearsing and creating new songs! We're really finding our sound and the creativity is glowing :)

2. We're also looking into the making of a music video! So we're planning a lot right now to be able to make this come true. We'll follow up with more news about this when we have some interesting to tell :)

3. And Björn, our drummer and Designer, is always in the making on some stuff for us. Right now he's working on an upcoming Design of our Website! It should suite our latest EP regarding Design and stuff. We're eager to see what he'll come up with :)

4. We're still having t-shirts and copies of our latest merchandise at our webshop at this adress:
http://blackmagicfools.bigcartel.com

We'll come back soon with some more happy updates for ya'll! Stay tuned!

/crew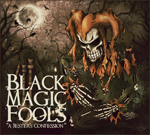 If you haven't already bought our new CD, then you can do it online at our official mercandise shop: https://blackmagicfools.bigcartel.com

There you can also find our awesome T-Shirt! Get yourself this awesome T-shirt before it sells out!



Here's the first review of our new EP "a Jester's Confession" from www.folk-metal.nl.

Thank you Folk-Metal.nl for this wonderful review! You can read the review here!

Cheers!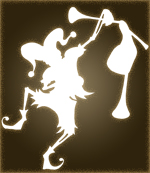 Finally we announce brand new song from the new EP "a Jester's Confession", it's called "Dansa i Natt".

Watch and listen to it either on the MEDIA page or on YOUTUBE .

Enjoy!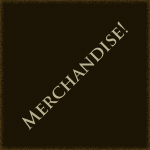 The new medieval online store is now up! Go and check it out at http://blackmagicfools.bigcartel.com/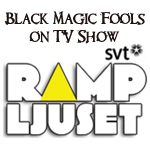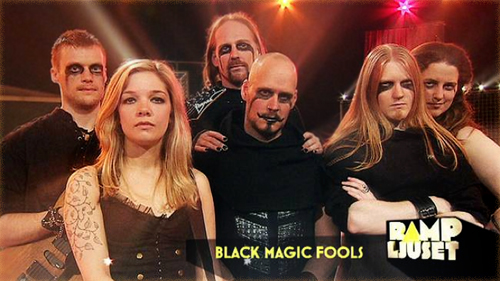 Tonight we're on the Svedish Television program called "Rampljuset", click on the picture to see the program!
(All material is copyrighted by Sveriges Television)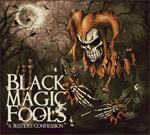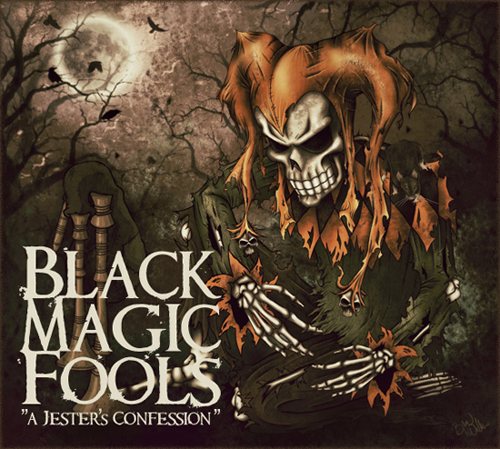 Finally! Ba-da-bam-bam-BAAH! Here is the cover for our new EP "A Jester's Confession". Enjoy! :)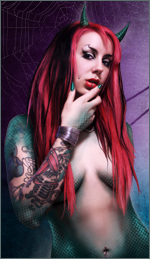 ALL ABOARD!!


We will be playing at Rockbitch Boat 27-29 october which travels between Stockholm and Riga. There will be tons of awesome metal bands aboard the ship! The boat will also be filled with zombies, vampires and a lot more due to the fact that it's a trip with a HALLOWEEN THEME! It'll sooo awesome :D

We will play a Metal gig and two acustic gigs. One of the acustic gigs will be played in Riga at the Medieval Restaurant Rozengrals. Check out their website, this place is REALLY nice! The other unplugged/acustic gig will be on the ship.

More regarding time slots will be announced later! Check out Rockbitch Boat website to find more information and how to buy tickets!
We also hope to finish our upcoming EP to bring aboard the ship!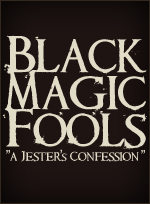 At last...

After months and months of waiting, struggling and hard work the new EP is coming to life! The mixing is almost done. And as soon as the mastering is done it will be sent for printing! We hope to release it in the end of October.

The name of the EP will be "A Jester's Confession", It's about an entertainer that goes from a happy life to extreme misery and his struggle back from the depths of hell. The story is told through 7 tracks, with a little mix of everything.

The Art Cover will be revealed VERY SOON! Stay tuned!

/Black Magic Fools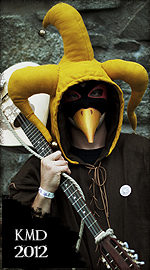 Now when the vacation starts to end we'd like to remember all the good things from it. We spent four days at the medieval festival outside of Gothenburg called "Kungahälla Medeltidsdagar ". Both as ourselves AND dressed out as animals... our guitar player Daniel is on the picture to the left just showing how crazy we appeared almost the entire festival :)




We've uploaded some pictures from the metal show in the

pictures

section, hope you'll enjoy! We had so much fun! Thank you so much everyone attending those two nights we played!





We'll upload some other pictures of us dressed up as animals soon as well ;)




Cheers!



/Black Magic Fools
We just got home from an AWESOME festival in Germany called Hörnerfest were we got the great opportunity to play at!

We arrived to the very small village of Brande/Hörnerkirchen at midnight when the GPS said "You have now arrived at your destination"… but there we're nothing more than trees and darkness around us.. shit, we we're lost!
But with some help from our friend from Spiegelkeller, some local dog walking people and expensive internet connections we finally after two hours of driving managed to find the camp!

Then the fun of putting up the tent in the dark began. It actually went quite well :)
The morning after we woke up to some rain… the first thing we thought was "noooo, we didn't wish to have travelled all the way to Germany to play in rain".

But after a few hours the rain disappeared and actually the sun came out!! F*CK YEAH!
You people in Germany made our show the best we've had so far! You are an awesome crowd! We loved the mosh pit you created at the end!! :D

We'd love to come back! Thank you so much for making our first show in Germany the best ever!
YOU ROCK!! Thank you so much! We'd also like to thank everyone backstage for the food, beer, nice company and the awesome sound guys! Really professional!

We hope to see you again soon! We would love to come back! :D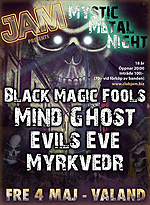 While we're focusing on the upcoming EP we thought we'd make a show at Valand in Gothenburg! It's so nice getting out and perform live in a contrast to the life in a studio. So the 4th of May we'll play together with Mind Ghost, Evil's Eve and Myrkvedr! The theme for the night is once again "Mystic Metal Night". But this time we're not alone with the folkish and "medievalish" tunes because Myrkvedr will also bring metal from the medieval ages!

Evils Eve 's theatrical appearance, humor and performance of pure Rock surely suits the event!
Mind Ghost has recieved glorious reviews of their latest album "The Plastic Generation" and will blow you away!

Here's a link to the Facebook event.

Here's a link to the Poster (made by Björn our Drummer)

An awesome night! We hope to see you there! :)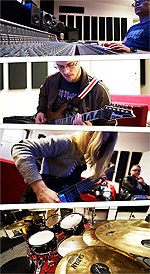 It has begun!

Our new EP is slowly unfolding! We traveled the 16th of mars to a Studio in Malmö/Sweden with 4 (!!) guitars and most of the drum set packed into one small car. After a few hours of dirty talk and a lot of bad stories we ended up in Malmö and started unloading the transport.

First up we spend SOME time adjusting and tuning the guitar for the right sound.. that took a while! :) Finally done it was time for the actual recording of the chosen songs.
Really awesome work by Daniel our guitar player. Unfortunately we couldn't play all night so we went to bed late and got up early to continue with the last guitars.

Meanwhile I started setting up the drum set. I think we finally counted 13 microphones around the drum set hoping to get the most awesome sound we could get!
Then we encountered some problems with the double pedal and also some "creaking noises" from the toms. But some duct tape solved that! :)
Then it was time to record some drumming! it was warm and tiresome but I think the result's gonna be awesome!
Finally we started to record some bass, but unfortunately our studio time ran out. But we'll finish the bass until the upcoming weekend to record the Bagpipe, Hurdy-Gurdy and Fiddle.

Upcoming weekend will be 13-15th of april! Until then, STAY METAL!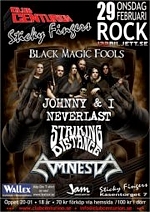 While preparing and focusing for the upcoming second studio recording we would like to present some of the new songs. On 29th of February, a date that only occurs every forth year, we'll now be playing at Sticky Fingers ground floor together with Amnesia, Neverlast and Striking Distance.

It starts at 20:00, no band order is arranged yet! so be there in time :)

Tickets:
The easiest way to buy a ticket is to buy one here for 70:-. Otherwise its 100:- at the door.

We all hope to see you there!!!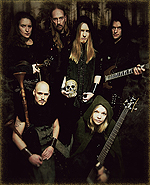 We've updated almost everything on the website during this weekend. Design layout, pictures and more! Go ahead and check it out! We hope its for the better :)

We have been rehearsing new material and planning for a while now for an upcoming recording. We will not go into too much detail yet, but within a few months we hope to get something really good! More news and updates about the upcoming recording will come soon!

/Black Magic Fools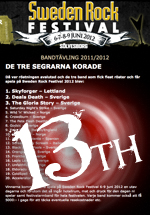 Yesterday we were so nervous about the final outcome of the Sweden Rock Band Competition.. and finally the voting page closed down and we waited anxious over the outcome...

Congratulations "Skyforger", "Deals Death" and "The Gloria Story" for having won the three spots to play at the festival! We fought hard all the way to the finals and came in 13th place among the 1500 band from the beginning. And we're of course stoked about even make it to the finals! Thats awesome!! :D

We thank you all for the enormous support of the votes in the contest! We had never come this far without you! So thank you so much!

Wow we can't believe it, we made it to the finals! And it's ALL THANKS TO YOU STOOD BY AND VOTED!
Many many many thanks to you all! :)
So we are now one of 20 bands that will go through another round of voting between 11-23 of January, so much shorter period this time.

Here are all the lucky finalists in the competition:
http://www.swedenrock.com/index.cfm?pg=574

So on Wednesday the 11th of January the last and final round of voting starts. We never thought we'd come this far, and we really hope you can withstand these final days until the competition ends where 3 lucky bands will have the privilege to play at Sweden Rock Festival this upcoming summer.

Wish us luck, and thank you all again for your support!

/Crew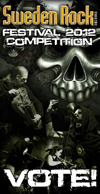 We've been lucky to be one among the 100 bands of 1500 bands that where chosen to pursue to the next round in Sweden Rock Band Competition. The price is to play on the Sweden Rock Festival 2012, and we REALLY want that! :D

So now we need your help!
How to pursue to the next round is all depended on voting. Each person can vote one time per day until the 9th of January. Their system is based on tracking IP-adresses.. so if you have a smart phone its possible to vote from your phone as well. So that would mean 2 votes per day :)

How to vote:

1. Visit Sweden Rock Band Competition page: http://www.swedenrock.com/index.cfm?pg=574

2. Check the box next to our name (Black Magic Fools) in the list

3. Scroll down to the bottom of the page and click the button "Rösta" to give us a vote!

4. Done!

5. Repeat the same procedure the upcoming days until 9th of January :)

Spread the word to all your friends, colleagues, family, pets and so on! We really need all help we can get!
Thanks in advance!
/Black Magic Fools


Club JAM is arranging a "Mystic Metal Night" at Valand Friday 11th of november (11-11-11). We will perform together with Zero Illutions , Last Kingdom and Ultimate Fate .

Here you can see the official poster!

We'll perform some new songs that no one has heard before. This is probibly the only show we will have in Gothenburg this winter due to new song writing and studio plans.

Tickets can either be bought by Ticnet for 70:- or at the door for 100:-

We all hope to see you there!

/Black Magic Fools

We've updated the pictures section with more pictures from Kungahälla Medeltidsdagar, and also some older pictures from Sticky Fingers 2010.

Enjoy! :)


We havn't had time to thank you all for the support on our shows at "Kungahälla Medeltidsdagar" and "Göteborgs Kulturkalas"!

Despite the unsettled weather we manage to recieve good weather in Kungahälla and GREAT weather on Avenyn when we played outside directly under the sky! Unfortunatly we had to cancel the friday show in Brunnsparken, but then again we wouldn't be able to play because of the rain that came that day..

The online swedish metal magazine Swedenmetal.se visited us at Göteborgs Kulturkalas and filmed some songs that you can watch at their YouTube Channel!

Also a great thanks to Ingemar for helping us with the show at Kungahälla due to the fact that Pontus had barely recovered from two weeks at the hospital.

We've also uploaded some pictures from our show at Brewhouse at Göteborgs Kulturkalas, you can find them at the pictures section!

We really enjoyed playing and hope to come back again for more! :)

We will this year perform at the "Gothenburg Culture Festival" (also called Göteborgs Kulturkalas). We have three different occations we'll play at.

1. Wednesday 17/8 19:00 at "Brewhouse", more info here !

2. Thursday 18/8 20:00-22:00 at "Aveny 18" (Very close to Systembolaget on Avenyn), more info here !

...take the opportunity to see us perform a "half-acustic-show" and also to buy a copy of our EP and come talk to us personally! We hope to see you at at least one of the events above! :)

/Black Magic Fools


Tomorrow 22/7 we're going to headline the main stage at "Bohus Fortress" (also called Bohus Fästning in Sweden) for "Kungahälla Medieval days 2011". Directly after the amazing fire show performed by TRiX we'll enter the stage and do our best to spread some plague and death over the Fortress :)

You can see the program/activities and information on the following link: www.bohusfastning.se

Our show will start at 23:30! Its going to be an awesome medieval metal show!

/Black Magic Fools


The days are closing in and we're rehearsing six new songs that we'll perform at "Medieval market of Leksand" (Leksands Medeltidsdagar) 27th, 28th and 29th of May. We're also happy to announce that Varius Coloribus Experience will play during the festival as well!

If you intend to visit the market please check out the schedule when we're playing during the days, you can read it in Swedish here!
When we're not playing with our big setup we'll be roaming the streets playing with our acustic setup. We'll also be selling our Debut EP CD there! a golden opportunity to get your own copy and meet the band personally ;)

See you there?! :)

/Black Magic Fools




Swedenmetal.se asked our singer and bagpipe player to mention his top 5 albums that made him the musician and person he is today!

You can read the interview at the link below:
http://www.swedenmetal.se/?p=8390

/Black Magic Fools

We just recieved our first review of our EP from the Swedish metal news site Swedenmetal.se. We thank you for the amazing review!! we're happy you liked it :)

You can read their review at www.swedenmetal.se/?p=8167.

/Black Magic Fools


We've just updated our Media section and MySpace page with a live video in from our performance at Parken in Gothenburg.
They filmed us from 3 different cameras and helped us put together a live video for us. Check it out! You can even watch it in Full HD resolution 1080p! Nice ;)

Link to media

Link to MySpace


Friday April 1st we arrange a medieval/folk/metal night together with FEJD and Myrkvedr! It will take place at Ballroom/Henriksberg in Gothenburg.

Link to our Poster!

Info:
Place: Ballroom, below Henriksberg
Adress: Stigbergsliden 7
Open between 20.00-02:00
18 year minimum,
Entrance fee 80:- (no pre tickets available, so be there in time!)

We will also have our Debut EP release at the same event! Its gonna be awesome! Be sure not to miss this unique oportunity to see a huge combination of medieval instruments as bagpipe, hurdy-gurdy, violin and many more in this one time only event in Gothenburg!

Regards
/Black Magic Fools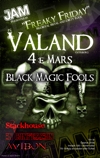 Friday Mars 4th,
Club Jam has booked us for a show as headliner for their event "Freaky Friday" together with "In Confession", "Avibon" and "Stackhouse". It will take place at Valand in Gothenburg. Its gonna be great mix of dirty rock and medieval metal! BE THERE! :)

See our poster for the event here!

Hope to see you there!
/Black Magic Fools

Medieval Metal! :)
After two days of recording in the studio the demo sounds REALLY promising :D
Thank you so much Richard for enduring us and our humor this entire weekend. You are really professional to work with and you serve great coffee ;)

We recorded 3 songs as planned and hopefully a 4th one soon. It was a though weekend but it will definitly be worth it when the songs end up on a CD and hopefully some other places for you to listen to! We can't wait until its finished!

/Black Magic Fools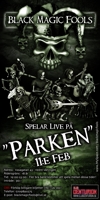 Thank you Parken, Club Centurion and the people that came to the show tonight! Most of it was filmed by a few cameras from different angles, hopefully we can use it to make a live video later ;)
Pictures from the show will end up in the "pictures section", be sure to look them up! ;)

Tomorrow we will all travel to Skövde for the weekend to record some songs for an upcoming Debut EP! Stay tuned for more updates!

Good night! :)
/Björn

We just came home from a marvelous performance at a place in Stockholm called "ROQ" arranged by Club Dislocated. Thank you very much for the wonderful feedback we recieved! We'd love to come back and play again :)

Finally our website is "online" and we'll now start testing it and try to finish it as soon as we can!
Here we will publish news, gigs, pictures, videos, merc and more! All gathered in the same place :)

Don't forget that we also have group on Facebook where you can get direct contact to us and stay updated with the latest news as well!

Regards
Black Magic Fools
Listen to "Soul Collector" on SPOTIFY!